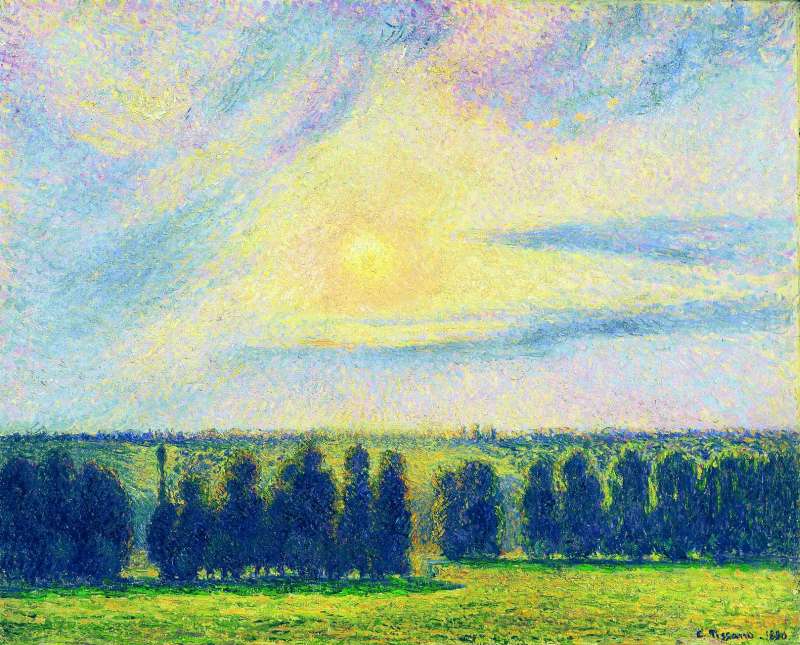 Pissarro moved to the tiny village of Eragny in 1884 and rented a house that he would eventually purchase with the help of Monet. The house, with a barn that he converted into a studio, would remain his base for the last twenty years of his life. More rural than Pontoise, his new surroundings were virtually unmarred by industrial development, and the nearby fields became Pissarro's most frequently recurring theme. Many of his paintings of this local landscape, such as Sunset at Eragny, feature settings in which trees are the principal motif.
During the early 1880s, Pissarro, like Renoir, became dissatisfied with Impressionist procedures and methods. He was already experimenting with ways to go beyond classic Impressionism by using diagonally parallel brushstrokes when, in 1885, he met Paul Signac, who in turn introduced him to Georges Seurat. Pissarro, impressed with Seurat's new "scientific" approach, adopted the Neo-Impressionist (Pointillist) technique. Throughout the second half of the decade, he maintained an intense involvement with the Neo-Impressionist group, many of whom also shared his anarchist political beliefs.

Seurat died in 1891, but even before that Pissarro had become disenchanted with the time-consuming Pointillist technique, which was both arduous and required painting much of the time in the studio. Though he abandoned Pointillism for a more spontaneous approach, it nevertheless taught him a great deal. His compositions were now more tightly constructed, his brushwork more precise, and his palette retained the lightness and purity of colors characteristic of Neo-Impressionism. Sunset at Eragny was painted as Pissarro emerged from his encounter with Neo-Impressionism. By then (1890), he had already returned to painting outdoors, and to allowing his freshly applied colors to interact on the surface instead of waiting for the spots of each color to dry separately. Nevertheless, the tiny, fragmented and crisscrossed strokes and the luminous color contrasts bear witness to lessons learned during his Pointillist years.

Pissarro painted a number of sunsets both in Eragny and in the nearby village of Bazincourt during 1890. The theme, with its heightened sense of a very specific moment soon to disappear, would continue to interest him. Here, particular emphasis is placed on the sky that occupies two thirds of the surface of the painting. Though Sunset at Eragny is composed of only a few, simple elements, it is an amazingly vibrant painting. Two rows of trees, one set slightly further back, are divided into four groups arranged horizontally across the entire picture plane. Behind them, the ground slopes down, then rises again to meet the sky along a low horizon. The sky, rendered in airy pastel shades, encompasses a compelling, setting sun at its center. This white-hot orb is shielded by scattered swirls of clouds through which streaks of blue sky emerge. The golden light of the setting sun illuminates the fields but leaves the side of the trees facing us dark green with violet and orange tinged shadows. Only the perimeters of the trees are touched by the sun's blond light. The true green of the trees is reflected in the horizontal shadows they cast on the earth in front of them. These brilliant color contrasts are further enlivened by the dynamic, varied brushwork, which is, at this point, both rapid and sure.
From the Israel Museum publications:
Impressionist and Post-Impressionist Painting and Sculpture, The Israel Museum, Jerusalem, 2006, English / Hebrew
Digital presentation of this object was made possible by:
Ms. Joan Lessing, New York and Jerusalem