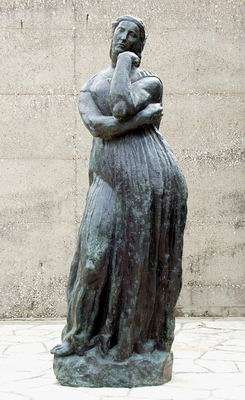 In the early twentieth century, Bourdelle and Maillol were among the artists who abandoned the impassioned romantic expressionism of Rodin for a calmer and more harmonious style. Their intent was not, however, to emulate the art of antiquity in the Neoclassical spirit of the preceding century, but rather to recover the power, simplicity, sincerity, clarity, and equilibrium of classical art. This new trend was in evidence early on in Bourdelle's Head of Apollo (1900) and in the work that succeeded it, the first version of Penelope, 1905-1908; it is clearly evident also in the second version, which is on display in the Museum's sculpture garden.
Penelope, the wife of Odysseus, who remained faithful to her husband during his prolonged absence, was commonly represented as a veiled, pining, impassive seated figure. Bourdelle rather chose to emphasize Penelope's interminable wait but represented her in a standing position, recalling a number of academic French mid- nineteenth century renderings of the biblical figure of Rachel—who was likewise held up as the epitome of the patient and faithful woman waiting for her beloved.
Penelope, a larger-than-life-sized figure represented from the front like Bourdelle's warrior, leans her head pensively against her left hand. The ample proportions of her body deviate from the academic norms; the artist has emphasized her heavy hips and thighs by the draped folds of her skirt, reminiscent of a massive Doric pillar. The accentuated fullness and softness of the lower part of her body lend her the aspect of an earth mother, an archetype of mellow maternity, whereas the upper part appears to withdraw inward behind the folded arms. This duality corresponds to Penelope's life, accommodating the tensions of motherliness and repressed sexuality, warmth and physical distance, love and abstinence in the endless wait for the return of her husband.
From the Israel Museum publications:
Spitzer, Judith, The Billy Rose Art Garden, The Israel Museum, Jerusalem, 2004, English
Impressionist and Post-Impressionist Painting and Sculpture, The Israel Museum, Jerusalem, 2006, English / Hebrew
Digital presentation of this object was made possible by:
Ms. Joan Lessing, New York and Jerusalem