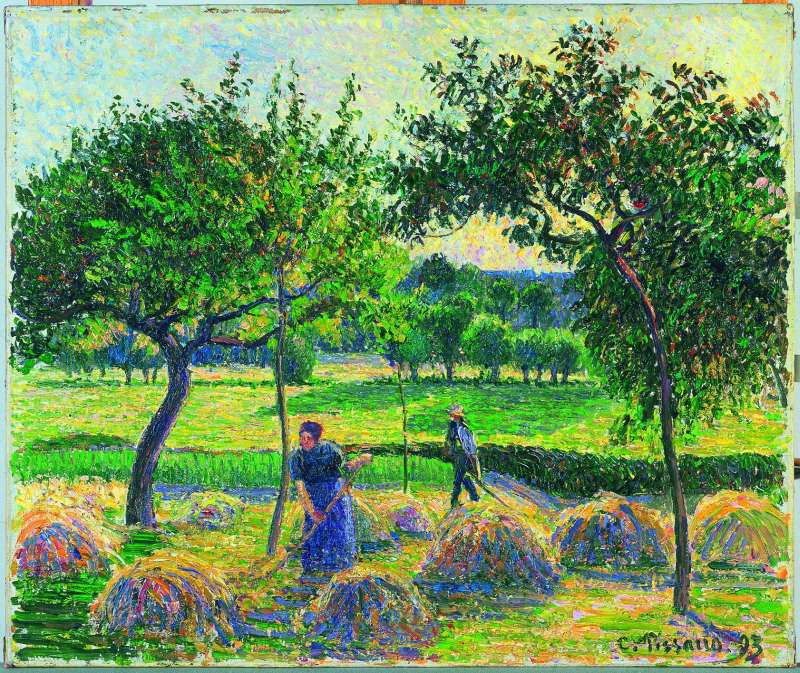 "One must be simple, natural and have lots of character." -- Letter from Camille Pissaro to his son Lucien, 28 February, 1900
In this painting, Pissarro has introduced men and women working the land, hoe in hand, in place of the shepherds in traditional landscapes. His figures, unlike those earlier ones, are not subsidiary to the landscape, but play a central role. Moreover, Pissarro's attitude toward them is not detached, as was seemingly the case with many earlier landscape painters. Instead, he is engaged with depicting the actual work in the fields.
Pissarro's feeling for the peasants has been variously interpreted and in recent years has undergone new examination. Richard Brettell has challenged the standard view of Pissarro's empathy and sees the painter's relationship to the peasants as more complex. In his one remark regarding them, Pissarro wrote, after reading Kroptkin, "who believes that one should live the life of a peasant in order to understand them properly, in order to render it properly; but is it necessary to be a peasant?… Let us first of all be artists and then we shall have the ability to feel everything, even a landscape, without having to be a peasant." Brettell noted that Pissarro probably never viewed rural life close up, his peasant figures have greater variety and "truth" than the other major Impressionists' landscape figures.

In this late rural scene by Pissarro, we can still see the affinity with Corot, the major landscape painter of the mid-nineteenth century. Pissarro's farmers also recall those of Millet, though without his sentimental overtones and Biblical references. These are contemporary figures, a woman and a man engaged in common labor. They also speak of continuity, of farmers who have worked the land for centuries. Unlike Monet's grainstacks from about the same period, which focus on the shifting light on the surface of the forms at different times of day and in different seasons, Pissarro's painting is more concerned with the labor, less with experimental aesthetic effects.
The composition is emphatically horizontal. The two trees that frame the peasants function less as a repoussoir, or foil, and more as vertical forms animating the horizontal landscape. The haystacks create an undulating line in the foreground contributing to the rhythm of the composition. While Pissarro had recently given up the Neo-Impressionist or Pointillist brushstroke of Seurat, we can still see its effects in the small brushstroke renderings of the haystacks. The heightened palette is also a carryover from the artist's Pointillist period.
Pissarro's landscape with peasants in Bountiful Harvest strikes a balance between being the record of human activity and the rendering of a structured and composed landscape.
From the Israel Museum publications:
Impressionist and Post-Impressionist Painting and Sculpture, The Israel Museum, Jerusalem, 2006, English / Hebrew
Exhibitions:
The Four Seasons, Israel Museum, Jerusalem, 28/12/2010 - 07/05/2011
Digital presentation of this object was made possible by:
Ms. Joan Lessing, New York and Jerusalem