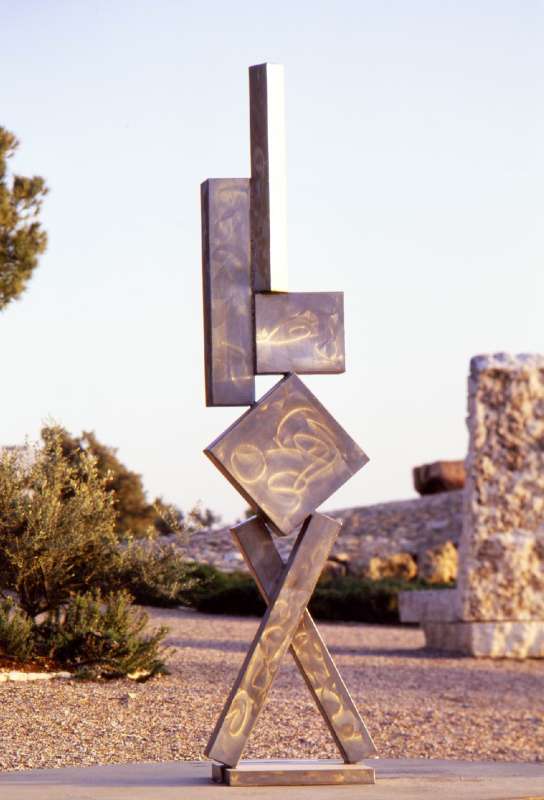 The foremost sculptor of the American Abstract Expressionist generation, David Smith began his art studies in New York in the late 1920s at the Art Students League, where he was exposed to Modernist writings, works by such artists as Mondrian and Kandinsky, and Cubism. During the early 1930s Smith moved from making Cubist paintings to collages to reliefs, and, ultimately, to freestanding three-dimensional works. From 1935, he concentrated on sculpture, although he constantly strove to merge painting and sculpture, and create a new art form.
In the 1950s Smith began to work in stainless steel, producing larger and more abstract pieces. The culmination of his work was the "Cubi" series, which he began in 1961. The last in the series, Cubi XXVI, was completed a short time before his untimely death. Smith intended "Cubi," like his other stainless-steel series, to be displayed outdoors, so that the surfaces of the sculptures would change with the changing light. In this sense, they represent the final stage of his long exploration of the possibilities of combining color and sculpture.
Cubi VI relates to the human figure, although in a geometric, abstract way. The X shape at the bottom of the sculpture is reminiscent of a cross-legged stance, and the square "chest" is connected to a tall vertical rectangle reaching upward like an arm. A second, higher vertical rectangle can be interpreted as the head. The upper and lower sections are joined by a precariously balanced diamond shape, which together with the reflective properties of the material, lends the sculpture a weightless quality in spite of its mass and grand scale.
From the Israel Museum publications:
Spitzer, Judith, The Billy Rose Art Garden, The Israel Museum, Jerusalem, 2004, English
The Israel Museum, Publisher: Harry N. Abrams, Inc., 2005
Kamien-Kazhdan, Adina (ed.), Modernism in Dialogue: 20th-Century Painting and Sculpture in the Israel Museum, The Israel Museum, Jerusalem, 2010
Exhibitions:
Modern Art Highlights Online
Digital presentation of this object was made possible by:
Ms. Joan Lessing, New York and Jerusalem