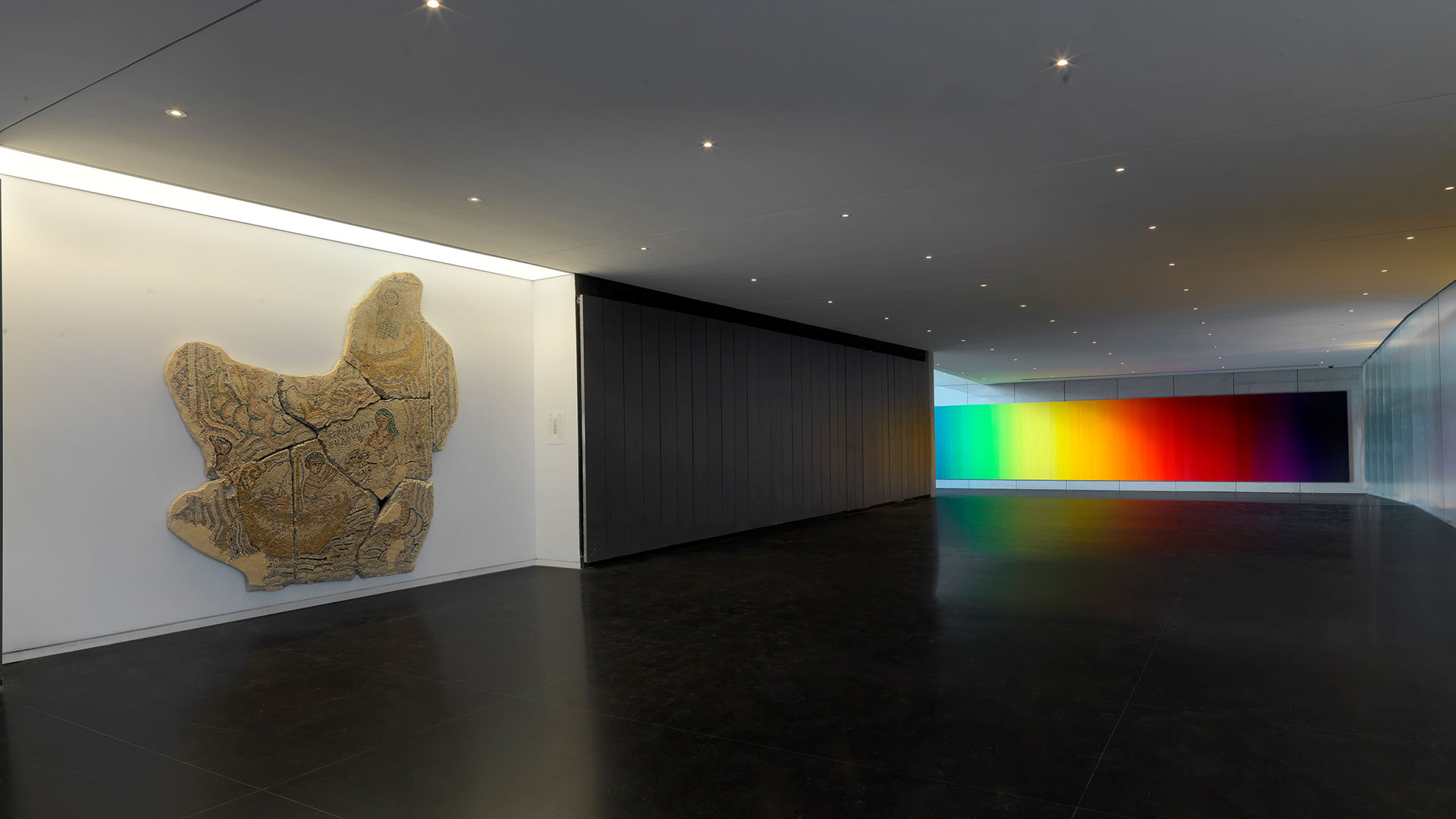 Press Room
Israel Museum Debuts New Body of Work by Internationally Acclaimed Israeli Artist Ilit Azoulay
Features Large-Scale Photographic Collages that Reveal Unknown Stories Behind the Israel Museum's Collection and History
Jerusalem (May 25, 2017) — A culmination of three years of on-site research at the Israel Museum, No Thing Dies premieres a new series of works by Israeli-based artist Ilit Azoulay. On view June 2 – October 28, 2017, the exhibition features large-scale digital collages that combine photographs of rarely seen objects and spaces inside the Museum, discovered by Azoulay after interviewing past and current curators, conservators, and archivists. Representing a web of stories and memories, the works are embedded with hidden layers of history relating to objects in the collection and the Israel Museum's evolution since its founding in 1965.
"It's been a rare privilege to work with an artist for such an extended period and provide unfettered access to the inner workings of our Museum as an integral element to Ilit's creative process," said Dr. Noam Gal, the Israel Museum's Horace and Grace Goldsmith Curator of the Noel and Harriette Levine Department of Photography. "Ilit embarked on an excavation to unearth alternative narratives that are not apparent, but whose existence comprises the story of the Israel Museum. The result is a profound body of work that reflects the subconscious of an institution whose mission is to protect and share with the public the full breadth of world culture."
In creating this series, Azoulay interviewed past and current Israel Museum staff members, using their testimonies as a guide for gathering information on rarely seen objects and spaces that carried special meaning for her subjects. Granted unprecedented freedom in exploring the Museum's galleries and storerooms, Azoulay meticulously documented and catalogued objects from all facets of the Museum's collections, ranging from Second Temple Period artifacts to African art to East Asian architecture. Utilizing the unique method of working for which she is known, Azoulay macro-photographed each object from numerous points of view, resulting in highly magnified depictions that she digitally combined into new works. The resulting images, printed and embellished with paper, wood, glass, and gold leaf, showcase the artist's ability to transform rarely seen artifacts and seldom explored spaces into works of contemporary art.
The inspiration for the visual structure of the series is drawn from a collection of paper frames cut out from a book of Medieval Persian miniatures. Because the works were manipulated by their previous owner, they have never been on display at the Museum. Azoulay, inspired by both their form and content, photographed the frames and used them as dominant elements in her collages. Other aspects of her project were influenced by the miniatures themselves, including the positioning of figures, the textured quality of backgrounds and landscapes, and the presentation of narrative.
About Ilit Azoulay
Ilit Azoulay is considered one of the most internationally acclaimed artists working in Israel today. Recent exhibitions include A Seventh Option (2015) at Andrea Meislin Gallery, New York; Implicit Manifestation (2014) at Herzliya Museum of Contemporary Art, Herzliya; Shifting Degrees of Certainty (2014) at KW Institute for Contemporary Art, Berlin; and Linguistic Turn (2013) at Braverman Gallery, Tel Aviv. Born in Israel in 1972, Azoulay received her BFA (1998) and MFA (2010) from the Bezalel Academy of Art and Design, Jerusalem, and currently lives and works in Tel Aviv-Jaffa. She is the recipient of the Constantiner Photography Award for an Israeli Artist, Tel Aviv Museum of Art (2011); the Israeli Culture and Sports Ministry Prize (2011); Mifal ha-Pais Foundation Grant (2013); and was among the finalists of the Pictet Prize for Contemporary Photography (2015).
Exhibition Organization
No Thing Dies is curated by Dr. Noam Gal, the Israel Museum's Horace and Grace Goldsmith Curator of the Noel and Harriette Levine Department of Photography. The project is supported by Outset Israel. In conjunction with the exhibition, the Ruth Kanner Theatre Group will present several live performances inside the exhibition, featuring recited segments of the interviews Azoulay conducted.

---
Exhibition of Works by Renowned Israeli Photographer Micha Bar-Am Documents Historical, Social, and Cultural Landscape of Israel During 1967
Photographs include rare color images of the Six Day War and depictions of significant events in Bar-Am's personal life
Jerusalem (May 11, 2017) — Marking 50 years since the Six Day War, the Israel Museum will display a collection of photographs created in 1967 by Micha Bar-Am, one of Israel's most prominent photographers. The 100 works on display, many on view for the first time, depict Israel at an important juncture in its history, as well as the social, and cultural evolution of the country during this monumental year. Arranged chronologically, the photographs are original prints from the artist's personal collection, and were commissioned by local and international journals or intended for private use. They capture major events in Israel's history, including rare color depictions of the Six Day War, as well as the year's large-scale public demonstrations against unemployment rates, living conditions in underserved communities, and the relationship between religion and state. They also reveal intimate moments from Bar-Am's own life, such as the birth of his eldest son – the first birth to be photographed and published in Israeli media. Also on display are original magazines in which some of Bar-Am's most iconic images were published, as well as the artist's diary from 1967, which provides a rare glimpse into the artistic and editorial choices behind his work. Micha Bar-Am: 1967 is on view from May 16, 2017 through October 17, 2017.
"Drawing attention to 1967 as a turning point for documentary photography in Israel, this exhibition presents a unique and comprehensive visual record of Israeli society at the time, through the lens of influential Israeli photographer Micha Bar-Am," said Noam Gal, Horace and Grace Goldsmith Curator of Photography in the Noel and Harriette Levine Department of Photography at the Israel Museum. "The bold and powerful photographs on display showcase both familiar and lesser known national events, which together with depictions of personal moments from Bar-Am's own life, illuminate Israeli history and culture during one of the most momentous years since its founding."
About Micha Bar-Am
Born in Berlin, Germany in 1930, Bar-Am arrived with his family to British Mandate Palestine in 1936. He became active in the pre-state underground and was drafted into the Palmach unit during the War of Independence in 1948. After the war, Bar-Am began documenting life on Kibbutz Malkiya, which he helped found, as well as archeological digs near Kibbutz Gesher-Haziv, where he later moved. In the 1950s, he joined the staff of the Israeli Army magazine Bamachane. After covering the Six Day War in 1967, he joined the staff of both Magnum and The New York Times, where he worked as the Middle East photographic correspondent for nearly three decades. Bar-Am covered major events in Israeli history, including the Sinai Campaign, the Eichmann Trial, the Six Day War, the Yom Kippur War, the First Lebanon War, and others. He co-founded The International Center of Photography and established the Department of Photography at the Tel Aviv Museum of Art, which he headed until 1992. In 2000, he was awarded The Israel Prize for Visual Arts.
Exhibition Organization and Catalog
Micha Bar-Am: 1967 is curated by Noam Gal, Horace and Grace Goldsmith Curator of Photography in the Noel and Harriette Levine Department of Photography. The exhibition is accompanied by a catalog including all works on display and an essay by the curator in both Hebrew and English.
The Israel Museum, Jerusalem
The Israel Museum is the largest cultural institution in the State of Israel and is ranked among the leading art and archaeology museums in the world. Founded in 1965, the Museum houses encyclopedic collections ranging from prehistory through contemporary art and includes the most extensive holdings of Biblical and Holy Land archaeology in the world, among them the Dead Sea Scrolls. Over its first 50 years, the Museum has built a far-ranging collection of more than 500,000 objects through an unparalleled legacy of gifts and support from its circle of patrons worldwide.
The Museum's 20-acre campus, which underwent a comprehensive renewal in 2010 designed by James Carpenter Design Associates and Efrat-Kowalsky Architects, features the Billy Rose Art Garden, the Shrine of the Book, and more than 225,000 square feet of collection, gallery, and temporary exhibition space. The Museum also organizes programming at its off-site locations in Jerusalem at the Rockefeller Archaeological Museum, where it presents archaeological artifacts from the ancient Land of Israel; and at its historic Ticho House, a venue for exhibitions of contemporary Israeli art.
Ai Weiwei Exhibition Brings Monumental Installations to Israel Museum
Opening June 2, Ai Weiwei: Maybe, Maybe Not Features Iconic Works
That Explore Relationship of the Individual to Society
Jerusalem (March 10, 2017) — Uniting monumental works by one of the most prominent cultural figures of the 21st century, a new exhibition at the Israel Museum will feature a series of installations by artist and activist Ai Weiwei that examine notions of the one and the multitude and of the individual's relationship to his or her broader social culture. Ai Weiwei: Maybe, Maybe Not will premiere the artist's new monumentally-scaled Iron Tree—towering over 8 meters tall and weighing 14 tons—which will greet visitors along the Museum's promenade as they enter its landmark campus. Inside, a procession of iconic installations—including Sunflower Seeds, Trees, and Soft Ground—will be presented together with complementary works by the artist. The exhibition will be on view June 2 through October 28, 2017.
"Ai's profoundly metaphorical body of work links contemporary Chinese culture with its past in ways that take on even deeper meaning in the setting of Israel, with its similarly ancient heritage. By shifting contexts—from China to Jerusalem—these installations reflect commonalities between these two civilizations, whose cultures developed concurrently over several thousand years on the eastern and western edges of Asia," said James S. Snyder, International President for the Museum's worldwide activities. "Our collections, covering a million and a half years of human creativity from around the globe, also offer a resonant setting for the universality of Ai's work, centered on interconnections among history, place, and human experience."
Installed throughout the Museum's Upper Galleries—and including examples of Ai's signature wallpaper combining timely subjects and traditional motifs—the exhibition features the following large-scale works, among others:
• Sunflower Seeds (2010): This sprawling and iconic installation is comprised of millions of porcelain sunflower seeds, handcrafted and painted by artisans from Jingdezhen, China's porcelain capital, whose history traces back to the Han dynasty. Appearing together as a unified field, each seed reflects the individuality of its creator as compared with the mass production often associated with Chinese manufacturing. Eating sunflower seeds is ubiquitous across both China and Israel, and the discarded husks that dot each landscape give testimony to centuries of common social behavior.
• Trees (2010): Referencing the ancient tradition of collecting dry wood in appreciation of its form, Ai's grove of tree sculptures is comprised of dead roots, trunks, and branches the artist gathered in the mountains of southern China. The work combines different species to create a semblance of a tree, whose artifice is apparent only upon closer inspection. These towering structures encourage an appreciation for the individual elements that combine to make a whole, a recurring motif in Ai's practice. In Jerusalem's olive tree-dotted landscape, Trees creates a special resonance with the religious and social meanings of trees in Israel.
Extending this concept is Ai's Iron Tree (2016), situated among the olive trees that line the Museum's promenade and adorn its campus. Cast from nearly 100 fragments, held together by nuts and bolts, this sculpture is the most ambitious outdoor work the artist has created to date.
• Soft Ground (2009): Covering 250 square meters, this hand-woven carpet replicates in full detail the floor of the Haus der Kunst in Munich, commissioned by the Third Reich for the display of Nazi-approved art. Created in a weaving mill in Hebei province, it becomes a focal point for the intersection of the history of Chinese craftsmanship under imperial rule, modern history during the Nazi era, and labor practices in China today. Installed in the Israel Museum, Soft Ground also references the layering of Israel's history from antiquity to the present.
About Ai Weiwei
Ai Weiwei is renowned for making strong aesthetic statements that also resonate with timely phenomena across today's geopolitical world. From architecture to installations, social media to documentaries, Ai uses a wide range of mediums as expressions of new ways for his audiences to examine society and its values. Recent exhibitions include: Ai Weiwei. Libero at Palazzo Strozzi in Florence, #SafePassage at Foam in Amsterdam, translocation - transformation at 21er Haus in Vienna, Andy Warhol | Ai Weiwei at the National Gallery of Victoria in Melbourne, Ai Weiwei at the Royal Academy of Arts in London, and @Large: Ai Weiwei on Alcatraz in San Francisco.
Ai was born in Beijing in 1957 and currently resides and works in both Beijing and Berlin. Ai is the current Einstein Visiting Professor at the Berlin University of the Arts (UdK), and he is the recipient of the 2015 Ambassador of Conscience Award from Amnesty International and the 2012 Václav Havel Prize for Creative Dissent from the Human Rights Foundation.
Exhibition Organization
Ai Weiwei: Maybe, Maybe Not is curated by Mira Lapidot, Yulla and Jacques Lipchitz Chief Curator of the Fine Arts.
For more information please contact:
Natalie Chetboun

Chelsea Beroza / Arden Shwayder
The Israel Museum, Jerusalem
nataliech@imj.org.il
+972 (0) 53-3360306

Resnicow and Associates, New York
cberoza / ashwayder@resnicow.com
+212.671.5160 / 5172