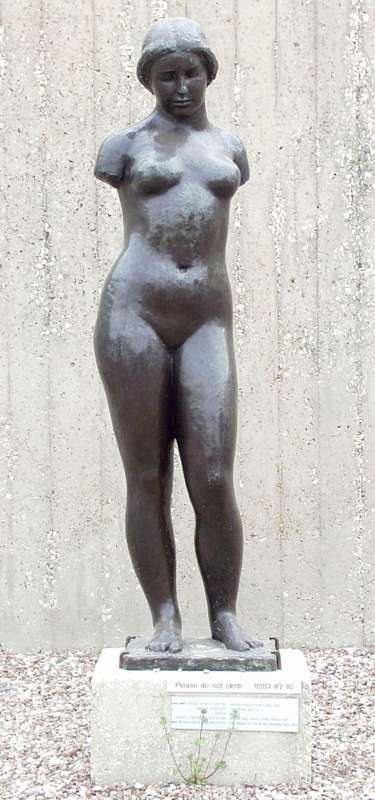 Created in the last years of Maillol's life, Harmony, in contrast to Action Enchained, represents a slender female figure, based on the young Russian-born model Dina Vierny. In a letter Maillol sent her on the advice of a mutual friend, he wrote: "Mademoiselle, I am told that you look like a Maillol or a Renoir. I'd settle for a Renoir." Vierny responded by paying the artist a visit in his native village, where he was taking refuge during World War II, and soon became his favorite model, inspiring a renewed spurt of creativity.
Harmony was Maillol's last, unfinished, work, the summation of a career that spanned forty years. Its most conspicuous feature, the severed arms, betrays the influence of Rodin's fragmentation, but it is delicate and aesthetic rather than expressive, and differs in this respect also from the broken limbs of Bourdelle's Warrior. Maillol, concerned instead with varying concepts of beauty and idealization, created a visual interplay of intact and fragmentary, classical and modern. The armless Harmony indeed evokes classical marble torsos scattered in their thousands throughout the world as a timeworn but exquisite legacy of antiquity.
The sculpture was preceded by numerous preparatory works. It was left incomplete when Maillol died in September 1944, having been fatally injured in a traffic accident on his way to visit his friend, the artist Raoul Dufy. Fifty years later, Dina Vierny would inaugurate in his memory the Maillol Museum in Paris, where a large part of his sculptural oeuvre is housed, testifying to a lifelong quest for the beautiful and serene.
From the Israel Museum publications:
Spitzer, Judith, The Billy Rose Art Garden, The Israel Museum, Jerusalem, 2004, English
Impressionist and Post-Impressionist Painting and Sculpture, The Israel Museum, Jerusalem, 2006, English / Hebrew
Digital presentation of this object was made possible by:
Ms. Joan Lessing, New York and Jerusalem